For the past 20 years, I have been impressed with Onkyo products.  Not only from a feature perspective but value as well.  It is difficult to find receivers that offer more features and better performance for the cost.  I am happy to report that something's never change.  Recently my 10 year old Onkyo started giving some problems on the mechanical HDMI switching.  Not very serious issue and it would only happen occasionally, but it was a great opportunity to upgrade anyway.
I shopped around a bit as I did not want to spend a fortune on a new receiver, however I did want to see what new wiz bang features I could get to quench my thirst for technology.  When it was all said and done, I had narrowed it down to the to the TX-NR515 and TX-NR616.  The main difference between the two was power output and THX certification.  After some internal debate I opted for the TX-NR616 primarily for the little extra power.  I will be moving in the near future and might end up putting it into a larger room so the extra power might be of benefit.  Besides, I only buy receivers every 10 years or so and the price difference is only $60 so why not splurge a little.  I was able to purchase this unit for $399 at Amazon.  In contrast the TX-NR515 was $339 so both are excellent values for their level of performance.
Onkyo TX-NR616 7.2-Channel THX Select2 Plus Certified Network A/V Receiver(Black)'>Onkyo TX-NR616 7.2-Channel THX Select2 Plus Certified Network A/V Receiver(Black)'>$399 at Amazon.
---
Key Features
There way too many features to list but here is a chart of the key features.  The main thing for me was the 7 HDMI inputs and of course the audio quality.  As a bonus, I was naturally intrigued by the network functionality as I have not had too much experience with a network receiver.  Not so much to stream content, but rather the DLNA support as well as the applications available for IOS and Android.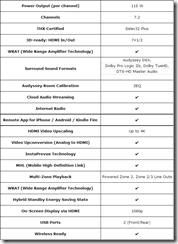 ---
Usability and first impressions
Hook up was fairly straightforward as these receivers go.  Everything was clearly marked and since everything I have uses HDMI, the hook was fairly standard.  Programming my Logitech remote was also not an issue and it found the Onkyo in the database.  One interesting thing was the big warning on the setup instructions to make sure you download the firmware update before configuring the settings and doing your initial setup.  The firmware process was pretty easy, but extremely slow.  Took almost 45 minutes to complete the firmware update to the latest version.  Part of the initial configuration is to run the Audyssey setup which is basically a microphone that you setup in the area where you are seated.  It runs a series of sounds and measures the  response and in turns calibrates your speaker settings.  Overall it was very accurate although I tweaked the center channels and sub-woofer to suit my listening preferences.
---
iPhone Application for the Receiver
As I mentioned, it comes with mobile apps for IOS and Android.  The level of options on the iPhone was amazing though the app took a bit of getting used to.  The functionality was awesome but it was not the best laid out app I have ever seen.  Once you figured out where everything was, you could control almost anything about the receiver.
Playlist/DLNA
As very few devices support DLNA correctly, I was pleased to see that the Onkyo worked very well.  Interestingly, it read my Direct TV receivers as well as Server 2012 Essentials as a DLNA servers but it did not find my Home Server 2011.  When I selected my Sever Essentials, my entire music library popped up and and I could sort by albums, playlists, or songs very easily.  A quick tap and sound is coming from your receiver.  Everything that you are playing shows not only on your TV but also scrolls on the front of the unit in case you do not have the monitor/TV on.
Setup for the various inputs
You can program you TV into the app as well so you can have some limited control of your TV as well as the receiver.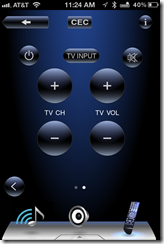 Summary
In short, I am very happy with my purchase and really love the features of the this receiver.  The sound quality is excellent especially playing Dolby, DTS, DTS-HD, and TrueHD.  The sound was fuller and more defined than the unit it replaced.  The standard stuff from multi-channel and 2 channel was OK and about the same as the model it replaced.  I really like all the network features although I have not yet figured out how it will benefit me since everything is already connected.  I am sure that I will come up with someway to exploit this technology.  The IOS/Android control is bonus and I find it to be very useful especially when tweaking the receiver or if you want to stream your content.  If you are looking to add or replace a receiver, definitely look at this one, because at $399 it is packed with features and the sound quality was extremely good.