Introduction
I have been an original SlingBox user for a number of years and overall have been happy with it. Though the interface was very laggy, it served a purpose of watching live or recorded TV to a mobile device. Recently I redid my entertainment setup and switched everything to HDMI connections. Since the version of the SlingBox that I have did not have HDMI, I used component video from the output of the Direct TV receiver to pipe into the SlingBox. The issue with this configuration is that the Direct TV box would choke when trying to play protected content such as premium stations (HDCP) as it read both outputs (HDMI to the receiver and component to the SlingBox). It would give me an HDCP error and did not allow the content to be played over the SlingBox.
Solution
Fast forward to present day and in researching a solution for this problem, I discovered that the new SlingBox 500 has a clever work around for this issue.  If you use HDMI to the unit and then use the HDMI output from the unit to your TV, the receiver reads only the HDMI allowing you to tap into the component output of your satellite/cable receiver and route it to the SlingBox.  This not only lets you view your TV using HDMI, but exploits the analog hole and allows streaming of HDCP enabled content via the SlingBox, something you could not do with old version unless you used all component video off your receiver and did not hook up the HDMI cable at all.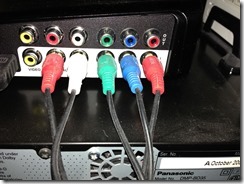 Extra benefits
As a side benefit, the new unit has a few new features which I really like. For starters, it has a built in IR blaster so you do not need to hang those stupid cables everywhere. In most cases you do not need anything to control your cable/satellite box.  Depending on your install, you might need their new pyramid shape IR blaster which I found to be much easier to position than prior models. In my setup with the satellite box one shelf lower on my entertainment center, I did not have to do anything to make this work.  The other complaint I had was the painfully slow interface which is now much smoother and much faster. On Wi-Fi, it almost like a native app and is very responsive . Over Internet, you got some delay but it was at least 4-5 times faster than earlier versions.
Mobile Clients
I had a chance to use the IOS versions of the apps as well as the "Embedded Web Version" of the player which works well with the Surface RT. Thought the apps where a bit more feature packed and polished, the Web player was actually very good and of course it is free.  It is a great solution until they release a native RT application.  They do have a Windows Phone 7 app but nothing yet for RT/Windows 8.
Windows RT (Embedded web player, no app at the present time.  There is a Windows Phone app)
iPad Application
iPhone Application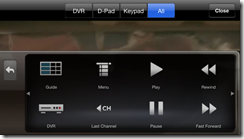 Summary
Not only did this fix my issue with protected content, it gave me a much higher level of performance. I must say that I am very impressed with this device and its capabilities. You could argue the unit is a bit bazaar looking (some might call it ugly) but it seems to grow on you after you own it for awhile. I really like the idea of not having IR blasters running everywhere and it does a great job controlling your cable/satellite box.  Add to this that I can control my recordings as well as play them back while being on he road is pretty awesome.  If you need a solution that lets you control and watch both live and recorded TV including premium stations, then check out the SlingBox 500.