As we move toward the public release of Windows 8, we are beginning to see more and more hardware available for it.  Here is a quick view of the new Wedge Mouse from Microsoft.  It is a Bluetooth based device that requires that you computer have some sort of transmitter.
Setup and Installation
I used a small USB type receiver which Windows 8 instantly found.  I went to the "Add Device" and added the Wedge mouse with very little problem.  Windows detected it and installed the required drivers for this device.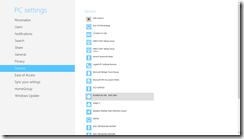 Summary and Impressions
Compared to the original touch mouse that Microsoft came out with a while ago which was absolutely horrible, this one actually works correctly and is very precise.  I was surprised with the sensitivity and accuracy of this device, especially when compared to their first touch mouse.  Despite the odd shape, it is fairly comfortable for most users.  Not sure I would want to use it for 12 hours straight, but it might shock you how well this feels.  The entire top is touch sensitive and moving your finger up and down either button or the center provides smooth scrolling in most applications as well as the Start Screen.  Flicking your finger up or down, gets you very smooth and fast scrolling.  Overall this is a cool device ideally suited for the laptop user though it is right at home on your desktop.  The device is small and light weight and fits comfortably in your laptop case.  If you are looking for a touch mouse, definitely get this over the MS Touch Mouse which I have and believe it to be worst mouse ever made by Microsoft.