For many years I have typed my notes directly into a laptop or tablet device and was quite content using that approach.  As many of you know, there are times/places when that is not an acceptable practice.  There are still companies, meetings, or educational seminars where typing on keyboard is viewed as disruptive, unacceptable practice, or in some places unprofessional. If you are like me and have this problem you will be happy to know that there is a very slick solution, the Livescribe Sky WiFi.   When I first thought that I would have to resort to pen and paper I was frustrated but since finding this solution it has actually helped me in many ways.
Key Features
Audio recording with positional relationship to the written note.  Touch a portion of your hand written note and it will playback the audio content that took place while you were writing your note.
Efficient integration to Evernote (my favorite note taking app).  All notes are uploaded directly to Evernote by Notebook and Page number.  It knows which notebook, page, and location you are using so you can use various notebooks without the risk of getting things mixed.
Handwritten notes are searchable (assuming you have descent hand writing) in Evernote.
Pen and Accessories
Day to Day Use
As it turns out I have used this thing every work day for the past two months and absolutely love it.  Of course I would I rather go directly into a computer, but short of that this is the next best thing with some side benefits.  If you have a need for note taking in lectures or meetings and cannot use a laptop, then this may be a good solution for you.  Add to that that you can record audio along with your content is pretty impressive.  Since you have to use proprietary notebooks (which are not expensive) it knows exactly where you are at any time.  As you record the audio, it is tied to the position of what you were writing at the time so if you need to know what was going on when you wrote the note, it will playback that portion of the note.  It works surprisingly well.  If you look closely at the picture below, you will notice that there are some very tiny dots on the paper which is how the IR sensor in the pen picks up movement and location.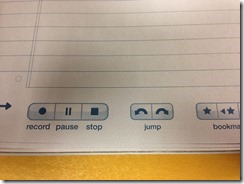 Evernote Integration
The Sky version works exclusively with Evernote, need I say more.  I happen to think that Evernote is the best note tool out there bar none, and is integrated into more products than its competition.  As you can see each page is stored as a note, and it creates a clean reproduction of your hand written note.  It can also be saved as a PDF if you need to send it to someone.
Summary
I hate to admit it but I really like this thing and find myself enjoying the experience.  The integration with Evernote is top notch and the company really stands behind their products.  A couple of weeks ago my Sky pen stopped working as it would not hold a charge.  I contacted customer service via chat and within 5 minutes they gave me a case number.  Without further correspondence or requesting their old unit back, a brand new arrived in less than 48 hours and I was back in business.  Great customer service.  This product is probably not for everyone depending on what you do, where you work, or what school you go to, but if you are someone like me that cannot carry a laptop everywhere you go then check this out as it might just fit the bill.